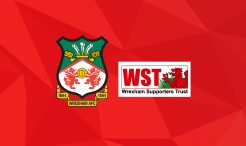 Dear all members,
Yesterday (Thursday 29th October), we instructed Mi-Voice to start to distribute the Proposed takeover of Wrexham AFC "Deal Pack" (The Pack) by e-mail and post.
This is a short note to ask Members to check that:
For emailed packs, you have received the e-mail. If it has not arrived in your Inbox, can you please also check your Spam folder first before contacting the Trust to say that it has not arrived. It would be appreciated if you can contact us by no later than Tuesday 3rd November to say that it has not arrived.

For posted packs. We only send these out where we do not hold an e-mail address. To allow for time for it to arrive, can you please contact the Trust on Tuesday 3rd November. To receive the Pack in the timescale allowed, you will need to send us an e-mail so that we can quickly deal with your enquiry and ensure that you receive the Pack. If you do not have a personal e-mail address of your own, you may use one of a member of your family.
When contacting the Trust, please send your e-mail to membership@wst.org.uk providing, your full name, your WREXID and postal address to help us trace your record.
It is your responsibility to ensure that the Trust has your most up to date contact details. If we receive e-mails after this date, we can not guarantee that we can deal with your enquiry in time for the end of voting.
Wrexham Supporters Trust Board