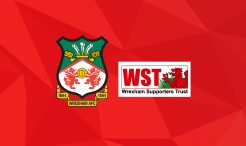 Wrexham Supporters Trust is delighted to announce that board member Steve Lloyd has been named the Vanarama National League Volunteer of the Month.
This award recognises Community Lead Steve's hard work organising Dragon Chat, our weekly men's mental health peer support group.
The overall objective for this group is to reduce male suicide by providing a safe place where people feel they have somewhere to talk without judgement.
The group is free to anyone over 18 who has mental health issues or just feels better from speaking to someone – particularly during this pandemic.

Those wishing to get involved in our Dragon Chat meetings can contact Steve directly on Stephen.lloyd@wst.org.uk. For further advice on mental health during the current lockdown click here.
On behalf of the Wrexham Supporters Trust we would like to say a huge congratulations to Steve for being recognised for his continued dedication to what is a very important initiative.
The Board of the Wrexham Supporters Trust