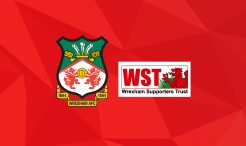 The Wrexham Supporters Trust board would like to issue the following update to members regarding the future direction of the WST.
In our statement issued earlier this month announcing completion of the sale of Wrexham AFC to RR McReynolds LLC, we commented how thought would be required on the direction the WST now takes. Following a meeting this Wednesday night, the board are pleased to provide the following update to members.
The fundamental question discussed concerned the purpose of the WST, given we are no longer in control of the Football Club. Broadly speaking it was agreed to continue existing as an inclusive, community-focused group of like-minded people with a passion for Wrexham AFC.
In an attempt to redefine our new aims and mission statement, the board are asking for suggestions from WST members for your vision. We request you email these to membership@wst.org.uk, no later than 26 March 2021.
We have identified three main areas for the future we wish to receive feedback on, which are as follows:
Community– the WST wishes to be a friendly, welcoming group promoting equality and diversity within the local area.
Fundraising– as a non-profit organisation the WST relies on fundraising events to sustain our existence, and we are always on the lookout for exciting and new ideas.
Membership– through a planned revamp of our IT servers, the WST seek to provide benefits to members within the community. We are also considering re-introduction of a membership card, either in physical or virtual form.
We look forward to hearing from you and will be issuing a further update once members' views have been collated.
Just like the rest of the Wrexham AFC family, the WST board are extremely excited about the future of the Club under our new owners, and we wish them every success both on and off the pitch.
The Board of the Wrexham Supporters Trust