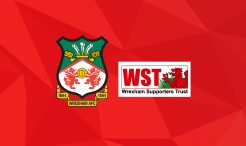 Dear Members,
Pursuant to rule 6.8 of the Wrexham Football Supporters' Society Limited Board Membership and Conduct Policy, I write, as Independent Secretary, to inform Members of the conclusion of a Disciplinary Process involving Trust Board Member Mark MacDougall.
The Board constituted a Disciplinary Committee to determine allegations relating to Mr MacDougall's conduct following the receipt of information from a third party. The Disciplinary Committee thereafter met with Mr MacDougall to put the allegations to him and to seek Mr MacDougall's version of events.
On 16.11.2020, the Committee assessed the facts presented to them and, following that meeting, the Disciplinary Committee determined that Mr MacDougall's appointment as a Director of Wrexham Supporters' Trust should be terminated upon the basis that his actions, as presented to the Disciplinary Committee, brought the society into disrepute.
Mr MacDougall, as was his right under the Board Membership and Conduct Policy, sought an appeal of the decision of the Committee. That appeal was heard by Co-Operatives UK, an organisation independent from Wrexham Supporters' Trust. Mr MacDougall's appeal was heard remotely on 19th February 2021 and 12th March 2021.
The appeal concluded as follows:
(1) Mr MacDougall's appeal was well founded and upheld. The decision to dismiss made by the Board on 16th November 2020 is overturned. Mr MacDougall's appointment as a Director should be reinstated.
(2) Mr MacDougall was not guilty of the misconduct with which he was charged.
(3) Mr MacDougall was given insufficient notice of the hearing.
(4) The Disciplinary Committee did assess the facts presented.
(5) The hearing was not held free from bias.
(6) The original decision was made in a manner which breached very basic principles of natural justice.
This decision is binding on all parties and cannot be subject to appeal.
As such, Mr MacDougall will be reinstated to the Board of Wrexham Supporters' Trust with immediate effect.
Joshua Williams
Independent Secretary