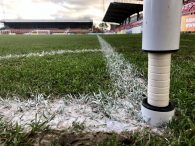 We recently asked supporters to submit questions for the Wrexham AFC Operational Board.
We received 52 emails containing over 150 questions.
Some questions asked were more WST specific and will be held back for our next Q&A, scheduled next week with WST chairman Pete Jones.
You will see from the very detailed responses from operational board members the amount of time and effort taken to answer questions fully. However we received a small number of emails with a very large list of questions, for example, one supporter sent a list of 80 questions, given the time it has taken to answer the questions submitted it has not been possible at this time to answer the small number of emails with such large multiple numbers of questions.
While some questions were also duplicated, we have grouped these together where possible in order for the Operational Board members to answer them.
Gareth Allen asked: Is a promotion push still possible this season or is Dean Keates to keep us in a safe place this season?
Dixie McNeil: Hi Gareth. Promotion is always possible if the points are still there. I don't think any player or club would look that far back at this part of the season. I think we all feel that there are no outstanding teams in the league, and if we can put a run together who knows? However at the moment we need to pull clear from the bottom position we are at. Dean is a positive person as all managers have to be and we hope both he and the players keep moving forward.
Joe Prosser asked: Whilst I appreciate that Dixie McNeil has is a club legend and has done a lot for the club, what attributes and skills does he have to add to the current board of directors?
Spencer Harris: Thank you for emailing Joe. Dixie has 50 years of experience of Football and has played and managed football across a number of levels, from below National League up to Championship level. He will add know how and ability to the Board in discussions about Football with the Football Manager.
Dixie is a nice man (not when we lose!), however is very forthright in his views and opinions. He is not afraid to make his feelings known and challenge the status-quo. Dixie has been a great fund-raising campaigner and will bring those ideas to the Board. He has the capability and will have an input along with the other Directors across the whole spectrum of what we do from Commercial to Football.
Ultimately it is for Football reasons that Dixie was the right choice for Wrexham AFC and we are sure he will be a very good addition with both the capability and time to get involved and make things happen.
Gary Sailsbury asked: What do you feel is ultimately to blame on the lack of success in Wrexham's 11 years in the conference? And, How diverse is the group of people who make the decisions for Wrexham, I.e Gender, age, wealth, job roles? And would you look to make this a more diverse group in the future?
John Mills: Hello Gary. I'm not one to apportion 'blame' as there is no one reason for Wrexham AFC not achieving what is our prime aim, return to the EFL (by which I would measure the term 'success'). You could possibly look at how the National League only has two promotion places, and the absence of Financial Fair Play regulations, which make it easier for rich owners to pump large amounts of money into teams, which in turn distorts wages expectations for players at this level, and then obviously attracts possibly the better players to what on face value appear to be smaller clubs.
Regarding your second question, as you may be aware, the decisions made for Wrexham AFC are not just made by the Club Operational Board, but also the WST Board when there are important issues. Regarding diversity, that is really something we cannot control, as membership of the WST Board is entirely put in place by whoever actually applies to join the WST Board during the elections and the subsequent Membership voting. Our current group of Board members has a very wide spread of 'day jobs', including Directorships, Management, Project Management, Finance, Retail, Commercial IT and Business Systems, and many other skillsets. I really don't believe that 'wealth' should be a criteria, but that is my opinion..
Personally, I am supportive of anyone with the right skills and time volunteering at Wrexham AFC. From a Board perspective it can be very demanding; you will need to contribute to the skill-sets necessary and be both capable and available for the necessary workloads. I would actively encourage anyone and everyone to stand for post, we undoubtedly need to continue development of the WST and Football Club. It has been encouraging to see the quality and capability of recent additions to the WST, and Club Board and hopefully this will give encouragement to others to put themselves forward.
Shireen Hughes asked: I understand that financially, we are in a very good position. As it's obvious that we won't get promoted this season, will we be in a position to 'Go for broke' next season and get some really proven decent signings especially in the midfield general role, which out of all the positions, is a player type that we are greatly lacking that would make a difference to us as a team, in other words a play maker!
Mark Williams: Hello Shireen: Each club within the National League system has to submit budgets to the league for approval. If the National League do not approve these then a member club could face a registration embargo that limits the number of players are member club can sign. In addition, the National League monitor performance during a season via quarterly returns that have to be submitted. With this background information we cannot operate outside our means e.g. deciding to spend £250,000 on a player (as an example as I am not sure what 'go for broke' means in terms of a player value) as the league would simply refuse to register the player if we operate outside our financial means.
Andy Jones asked: Why hasn't the sponsorship for the naming rights to the Racecourse not been sold?
Gavin Jones Answered: Thank you for this question Andy. It's quite simple really – this and the front of shirt sponsorship is our premium package. Nobody has come close to the asking price.We have had enquiries from companies outside of Wrexham but they would want to drop the Racecourse from the stadium name.
Andy also asked: It's been far too long so do the commercial team still actively market this opportunity?
Gavin Jones: Yes – new and existing sponsors are offered the stadium to sponsor and discussions have taken place.
Andy also asked: If they do then what have been the objections from the businesses?
Gavin Jones: The Price.
Andy asked: If they don't market this on a daily basis then do they believe this revenue is not required because the club is in such a financially strong position?
Gavin Jones: Andy, the Commercial Manager does market this fantastic opportunity but not on a daily basis. We have a company considering a proposal for stadium sponsorship for the 2020/21 season.
Alan Edwards asked the following questions: What jobs do the operational board members have outside the club?
John Mills: Business & Information Systems Development Consultant
Gavin Jones: MBA, DBA: Management Consultant and Company Director
Spencer Harris: MA: European Project Management Office Director – FMCG Company
Mark Williams: Finance Director of Wrexham based company that operates in the UK and US
Phil Salmon: Owner of own business (Engineering Company)
Dixie McNeil: Retired former Football Manager and Player
What is their role as board members?
Spencer Harris: Hi Alan. With the addition of Dixie McNeil as a new Board Director the accountabilities may change, however below are the list of accountabilities shared with Trust Members at Trust Meetings prior to Dixie joining the Board and are the most recent. It is correct to say that all Board Members have an influence and an input across all elements of the Club from Football to Finance and any decisions that are taken are voted on by the collective group and not individuals.
John Mills IT & Health & Safety Lead:
Health & Safety
•SAG
•Policies
•Risk Assessment
•Matchday & events
IT
•Infrastructure
•Asset register
•Business Processes architecture
Communications
•Website
•Press Releases
•Programme Notes
•Links to Supporter Groups
Spencer Harris HR, Governance & Line Management:
Line Management
•First Team / Youth Dept / Secretary
Board Governance
•Wrexham AFC business cycle
•Agendas
•Chair Board meetings
•Meeting management
•Board reports to WST
Human Resources
•Org Design
•People Administration
•Recruitment
•Issue resolution
•Policies
•Contracts /Job Offers
•Safeguarding
Communications
•Press & Media – bilingual (Welsh)
Business Strategy
•Government and funding
•Relationship owner with key stakeholders of WCBC, WAG, Glyndwr
•Link to FAW
Training Ground
Mark Williams Finance & Match Day Controller & Line Management:
Line Management Finance
•Cash Flow
•Creditors and debtors
•Management Accounting
•AGM
•Insurance
•Organisational cost
Matchday Operation Controller
•Systems
•Ticketing
•Prices
•Matchday Operation Controller
Procurement
•Buying Services / Insurance etc
•Cost reduction programmes
Gavin Jones Commercial & Line Management:
Line Management
•Commercial / Retail
Business Strategy
•New income streams
•Negotiator (example Stadium purchase / concerts)
•Government and funding
Commercial Stadium & Football
•Commercial Strategy
•Retail
•B2B
•Sponsorship & Pricing
•Beer & Food deals
•Commercials with FAW
Community
•Lead Trustee of RCF
Phil Salmon Maintenance & Line Management:
Line Management Stadium
•Stadium / Groundsman
Maintenance
•Planned & reactive maintenance
•Stadium Infrastructure
•Legal compliance
•Environment
Procurement
•Buying non commercial Stadium Services
•Cost reduction programmes (water / electric..)
Facilities
•Implement Disabled Platform resolution
How much time per week do they spend on club business?
Spencer Harris: This can vary from Director to Director and the amount of activity under-way at any one time. However it is fair to say that each Director gives up several evenings a week, plus meetings and activities around weekends as well as taking annual leave from paid employment to complete work for Wrexham AFC at the Racecourse. The bandwidth of time per week runs between 10hrs per week to 40hours+ depending on any particular week and if a Director has taken time off work to run the business.
What business experience do they have?
Spencer Harris: Outside of football, the Board has a cross section of experience that includes large scale reorganisation of businesses both from a people and process perspective at a local and multi country level. We have team members who have been instrumental in enabling their organisation to deliver significant revenue growth, who negotiate contracts, who run their own business and who are educated to Masters degree level and above in business related topics.
Within Football, we have Directors with 8 years of experience. This has not led us to achieving to date our ambition of promotion back to the Football League despite reaching the play-offs more than once and Wembley three times. Like all supporters this is a source of frustration and a burning ambition to achieve. Off the field we have led the club to deliver the following high level summary (which is not exhaustive):
•Returned a business with no assets losing £750,000 per annum to a break even financially sustainable business through a complete remodeling of the business
•Wiped out debts of £500,000
•More than doubled the turnover of the business in 8 years
•Built a new shop and built a retail offering for fans, for example we now sell around 4,000 replica shirts per annum
•Introduced new ticketing system allowing people to buy tickets and print at home
•New website
•Built the relationships back with the Football Association of Wales to return International football back to the Racecourse including representative age groups and a full international in March V Trinidad and Tobago
•Managed to maintain our Youth Department set up from age 9 to 18 and signed a contract with the FAW to operate the Youth Department from the revamped Colliers Park and continued to produce players – generated income of player sales in excess of £20,000 Year To Date from the Youth department to support its funding despite not being eligible to receive compensation under EPP. In other words we are battling very hard with other clubs on your behalf and achieving income that clubs could refuse to pay
•Made the club legally compliant with proper employment practices in place
•Driven new non football revenue into the club by attracting world famous performers to play the Racecourse in concerts such as the Stereophonics and Lionel Richie
•Got the Racecourse back into 'effective ownership' with a 99 year lease, and full operational control of the Ground
•Improved some aspects of the Racecourse Stadium such as the flooring in the MRS, new seats, new CCTV, new dug outs, new executive area (to drive more revenue into the club) with a new tunnel to come soon
•Achieved autism friendly status, away disabled travel and a whole host of community objectives (tickets, fund raising, food bank support, Alzheimer's sessions) with the help of other volunteers
•Launched the Racecourse Community Foundation which through sports and physical activities its aim is to improve the health and well-being of individuals in Wrexham and North Wales particularly in respect of children and young people, those with disabilities and those disadvantaged and isolated from community activities.
In addition we are building the partnerships with key stakeholders that can unlock a new KOP at the Racecourse with the realistic prospect of a 5,000 seater stand being built with conferencing facilities and hotel. We are also building the partnerships to move towards a new training ground for the club at the Groves site and are in advanced discussions with the council from that perspective.
If we are to get out of the National League, has the time come for the club to be run by experienced professional people with the aid of inward investment?
Spencer Harris: The National League is an incredibly difficult division to get out of with only one automatic promotion place and then the play-offs can be a lottery. The Directors of Wrexham AFC, whilst joint owners as members of the WST do not own the Football Club and do not have the authority to independently make decisions about the ownership of the club. Should the owners of the club wish it to be sold either in whole or part then that is what would happen if a suitable person or group were identified and approved by the membership.
We will continue with Part 2 later today, while Parts 3 and 4 will be released on Tuesday (17/12/2019), Part 5 on Wednesday (18/12/2019) and Part 6 on Thursday (19/12/2019).