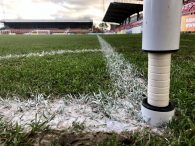 We continue our Q&A with the operational board…
Tony Whilding & Kyle Davies asked a similar question: Danny Ward's sell on fee, what was the money spent on?
Mark Williams: The money will be accounted for in our 2018-19 accounts in full but part of the funds were received in the current financial year. This allowed us to invest more in the squad this season from the summer, upgrade parts of the stadium (e.g. the CCTV was 20 years old as was causing issues with our alcohol and general safety certificate licence).
We also had to keep funds back for a corporation tax payment as well.
Full Name: Joe Prosser & Sian Jones asked a similar question: Can we afford to stay at the Racecourse Ground if we are relegated to the National League North? What would our plans be if we got relegated to the National League North, would we carry on the way we are?
Mark Williams: We have signed 99-year lease in 2016 so we would continue at the Racecourse Ground and we would continue to operate as a professional football club.
The National League North is increasing to 24 teams from next season and there would be less costs associated with transport to away matches.
There is a drop in the subsidy from the National League but the below is what we present at the WST AGM for our annual planning cycle:
| | |
| --- | --- |
| Stage | When |
| Spring Budget Review of current season budgets and variances | February |
| Season ticket and match-day prices agreed | March |
| Draft of budgets produced | April |
| Final budgets approved by Operational Board | May |
| Budgets approved by Society Board | May/June |
| Budgets submitted to National League for approval | June |
| Budgets presented at WST AGM | June |
| Autumn Budget review to prepare for January transfer window – performance against budget across all areas and any football fortune income from cup or transfer fees | November |
| Spring Budget Review of current season budgets and variances | February |
As you can see we start the actual financial planning process around February each year for the following season
Ian Jones asked: How are the club finances going to be affected by the poor season we are having and will it have an impact on next seasons budget?
Mark Williams: Hi Ian, I have covered the majority of my answer in a similar response to Joe Prosser & Sian Jones regarding the annual planning cycle for each season. The only additional information I would add is that the budgets for 2019/20 did not include an end of season concert that we have now announced with Lionel Richie.
With any budgeting process there is always variances that you learn from for future years and we also highlight the mian risks and opportunities in our budget when we present these at the WST AGM.
Andrew Griffiths asked: Why do we always take the cheap option? Never spend a bit of money to improve the team has the club going backwards every year.
John Mills answered: Thanks for your question Andrew. This relates in a way to Gary Salisbury's previous question. There have been occasions where we've gone in for players only to have other competing teams offering more than, in our manager's opinion, that player is worth.
We set a budget for every season based on expected income, and we cannot spend what we do not have. We do, when possible, increase the available budget (as I demonstrate in the response to Mark Barnes in part 5) that shows we have increased our initial budget by over £150,000 in all but one season where we benefited from increased loan fees for players that were not required following the change in management), but 'going for broke' is something that we will not do.
Matthew Smith asked: Where do you see the club within the next 2 Years? And how do you plan to achieve this ?
Gavin Jones: Hello Matthew. Ideally back in the football league or being realistic challengers for promotion in the National League. The Commercial side of the business is a major revenue generator for the club. This means retail, sponsorship, match day hospitality (Bamfords and 1864) and events such as concerts and FAW matches.
According to our shirt suppliers, we have retail sales comparable to League Division 1 sides. To grow this, we are looking to introduce a "professionally designed" bespoke kit that would maintain the present level of local sales and look to markets outside Wrexham for growth by offering a kit of Premier League quality – watch this space!
We are looking at plans to grow our online offering and potentially digital advertising offering such as FB/Twitter/You Tube club sponsorship. Recently, we have introduced a low-working-capital stock model with our suppliers, so we order low volumes more frequently. This allows us to effectively use the club shop and our small storeroom. This way of managing the supply chain allows for flexibility and allows the Commercial Manager to be reactive to fluctuating demand. We are also looking for a shirt sponsor willing to sponsor the club.
We have had a real targeted focus on sponsorship in the past couple of seasons – we have all stands sponsored, front of shirt, etc. This strategy will continue in the next two seasons.
We have also been looking at agencies to assist in selling advertising boards to local companies. In the next season, we have approached a number of digital advertising about housing an electronic advertising board on Mold Road – subject to planning – as a potential for extra revenue.
Here is a list of new companies acquired in the last 12 months –
• AST
• Barbour
• Barlows
• Bright Electrical
• Daulby Read
• DMHTyres
• Geoff Binnion
• IJazz
• Maelor Foods
• Malcom Randles
• Moneypenny
• Peninsular.
Match day hospitality has stadium constraints. We have been presently been operating at 70-80% capacity. The only option to grow this income would be to increase prices. However, we believe the price to be consistent with the present offering.
We have built a good relationship with a number of concert promoters. We have a unique offering which is attractive and low risk to the promoters by allowing both parties to maximise revenues. We are also looking to streamline all of the red-tape safety by standardising on policies/procedures with the council to allow the promoters a much faster concert on-boarding exercise. The downside is that we only have a five-week window to offer artists – after potential play-off dates and eight weeks before start of the season, as this time is needed to get the pitch ready for a long season.
We have explored the potential for pre-season friendlies, but we have typically been offered under-23 squads as the full teams tend to go further afield on lucrative sponsored deals.
We have also developed an excellent working relationship with the FAW, holding a full Welsh international and a number of Under-21 matches. We are working on continuing this relationship and having more of these types of fixtures in the future along with holding other European FAW club fixtures.
We will be looking to renegotiate pouring rights at the stadium at the end of 2020 – at present we have an excellent relationship with Carlsberg who are significant sponsors of the club.
On non-match days we have a number of returning delegates using the stadium facilities on non-match days – Tesco, McDonalds, North Wales Fire Service, University of South Wales, Hays Travel and Ifor Williams Trailers. We are looking to grow this sector of commercial revenue.
As well as revenue generation we also support a number of local charitable partners that use the delegate service at the Racecourse.
Sam Taylor asked: What is the highest goal for Wrexham fc? and where do you believe we can get to in terms of division? eg championship
Spencer Harris: Thanks for taking part in the Q&A Sam. The short-term goal has to be promotion back to the Football League. The benefits of this are obvious. For example we received this season circa £90,000 as our share from the National League plus we will get a couple of games at £6,000 if we get a home TV fixture. Should we be promoted this rises to around £1.3million between the league dispersal and share of TV revenues. Therefore promotion is like selling a more than £1million player every season and it also comes with the benefit of being back in EPPP and enable us to go back into the Youth Team apprenticeship scheme we were excluded from by the EFL 2 seasons ago. Therefore if there is any doubt of the desire of the club to be promoted, this should answer the question.
Our aspiration is to move up the leagues, however should we achieve the aim of a new 5,000 seater KOP then with a 16,000 stadium and our fan base, the aim for this club should be to move up the divisions and could aspire to be a Championship level club (albeit at that level you are competing with the likes of Derby, Nottingham Forest, Sheffield Wednesday et al). There is a significant amount of work to do before any of that would be possible.
Sam also asked: What is the process when we sign players, are they scouted before hand?
Spencer Harris: Yes. The amount of scouting depends on the differing circumstances as often in football players become available you weren't expecting and players you were hoping to get are unachievable. There are a variety of measures used including, getting recommendations, agent contact, seeing a player play and following it up, electronic medium we have access to sophisticated scouting technology.
We have a paid chief scout who does opposition analysis and has a brief to identify players. The staff are also active in scouting, for example current manager Dean Keates in his last spell here watched a certain player 'live' 4 times before deciding not to pursue the option. This is the level of diligence Dean goes into to spend your money as wisely as possible. However, despite the amount of scouting not all players work out for a number of reasons.
They are each human and not robots and it sometimes doesn't suit them in an environment or they don't settle at a club but do excellently elsewhere. Gary Bennett was a great example of this where he scored an amazing amount of goals for us but didn't repeat those numbers anywhere else.
We will continue with Parts 3 and 4 on Tuesday (17/12/2019), Part 5 on Wednesday (18/12/2019) and Part 6 on Thursday (19/12/2019).